Summer Intern Series: Chas Winebrenner
For the past 18 years, David M. Schwarz Architects has maintained a travel fellowship program which offers undergraduate and graduate architecture students an opportunity to travel and intern in our office. Chas Winebrenner is the 2018 Summer Fellow from The Catholic University of America (CUA) School of Architecture and Planning and will be receiving his Master of Architecture degree from CUA in 2018. Keep reading to learn more about Chas Winebrenner and his plans to travel to London and Paris.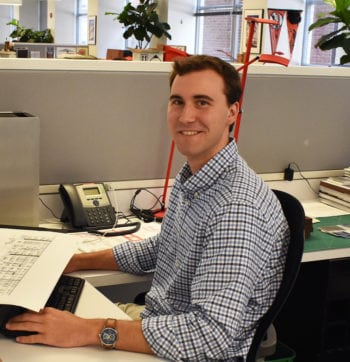 Favorite place to eat in DC: il Canale in Georgetown
Favorite building in DC: The National Gallery of Art, West Building, designed by John Russell Pope.
Favorite book: The Catcher in the Rye by J.D. Salinger
Favorite ice cream flavor: vanilla
Do you have any special skills and/or talents? Being able to figure out something that's broken and how to fix it; hands-on woodworking
What was your favorite band ten years ago? Jason Mraz
What are you currently working on?
I'm on the Vanderbilt team and we're working on the Residential College B. Right now I'm laying out the elevations for the interior courtyards, studying where rooms are placed and how they correspond to walls on the exterior and where windows can go.
What is something you have done during your time at DMSAS that you had never done or tried before?
At school I don't really use Revit a lot for design work, but I know Revit from a teaching assistant job that incorporated Revit within construction documents. It's been a good experience learning more about the program and seeing how DMSAS uses it for their design work.
What is your favorite DMSAS project? Is there is another project (past or present) that you wish you could have worked on?
When I was a junior in high school I went down to Florida for the AAU Nationals Basketball Tournament so I got to play in one of the facilities that DMSAS designed, the ESPN Wide World of Sports. I didn't know about DMSAS and I didn't really know much about architecture, but when I went to this place I found it a really inspiring place to play at. That started my interest in architecture from there on.
What about your time working at DMSAS has surprised you the most?
I was lucky enough to be part of the DMSAS fall studio at CUA so I guess I didn't really have any expectations walking into that studio, but I learned a lot about the firm and was able to work one-on-one with all the partners. That was a great experience in itself.
Why do you study architecture?
I've always been good with visualizing how things go together—using Legos as a kid, that sort of thing—or just out in the garage with my dad, pulling stuff apart, putting it back together, fixing it. So my senior year of high school we did Senior Projects; we would go out and try to get a 2-week internship, so I did that at 3 different firms. One was residential architecture, one was commercial, and the last one was a construction firm. That really kept pushing my interest in architecture and made me want to study it in school. Then I found Catholic through basketball because they were recruiting me at the time. I stuck with it—first couple years were kind of hard, just getting used to the education. You're in school for architecture, but you're also still doing philosophy and other subjects. Then when junior year of undergrad hit, more time was devoted to just architecture and it became more of a passion than just a side-interest.
Why did you choose London and Paris as your particular destinations?
I'm studying train stations, primarily. My thesis is about Penn Station in New York. The old station was torn down in 1963 and they rebuilt it with Madison Square Garden on top. I was originally going to take the old Pennsylvania line from DC up to Boston and stop at a few stations along the way. But then I was meeting with David M. Schwarz and he said I really have to go to London and Paris and study the stations over there, mostly because the European public transit system is smoother, they have more stations that American architects used as precedent when designing American stations.
My thesis is going to be a rebirth of Penn Station and it's supposed to bring back the uplifting feeling the old station had before it was torn down. It's currently a very eclectic area, not a great area to be around, so I'm coming up with a master plan to renovate the surrounding buildings around Penn Station. Not only coming up with a train station, but a station that has other programmatic elements that assist its financial viability. Stations these days, because airports have taken over and people just drive instead, they need more financial income to keep up.
How are you preparing for the trip: language lessons, planning an itinerary; researching the architecture, local customs, etc.?
Definitely planning an itinerary, the list keeps getting longer. And I'm blocking out what I'm going to do each day, seeing how much I can fit in.
Once you arrive, what are you most looking forward to?
Seeing the culture and the architecture, maybe how the two are related.
What techniques do you most enjoy using to document architecture? What techniques will you use during your travels?
Drawing in sketchbooks and photography